For generations, gongs have closely attached to community life, traditional rituals and festivals of the Sieng ethnic minorities in general, in Dong Phu in particular. Therefore, the preservation and promotion of gong culture has always been concerned and focused by all levels and branches in the district. Thereby, it contributes to preserving the fine traditional values ​​of Sieng people in Dong Phu land.
Preserve and promote the cultural values ​​of gongs
Thuan Tien hamlet, Thuan Loi commune is a typical example in preserving and promoting the unique cultures of the Sieng people in Dong Phu. The whole hamlet has 350 households with 1,476 people, of which 80% of the population is from Sieng and Mieng. At present, the hamlet still maintains 2 sets of gongs, maintaining a team of 7 gongs, a 12-person performance team, a stick pushing team, a crossbow shooting team and more than 10 families working in brocade weaving and knitting.
Outstanding in that movement was the village patriarch Dieu Set. He is one of the people who are deeply rooted in national culture. Especially preserving and promoting the value of gongs. Anyone who mentions gongs, he can talk passionately all day long. He said: "The Sieng people have many kinds of traditional musical instruments, such as drums, gongs, flutes ... But gongs are the most typical and sacred musical instruments. For Sieng people, gongs are invaluable assets, a cultural feature imprinted with time and space. It is also a symbol of both physical and spiritual strength of the Sieng people.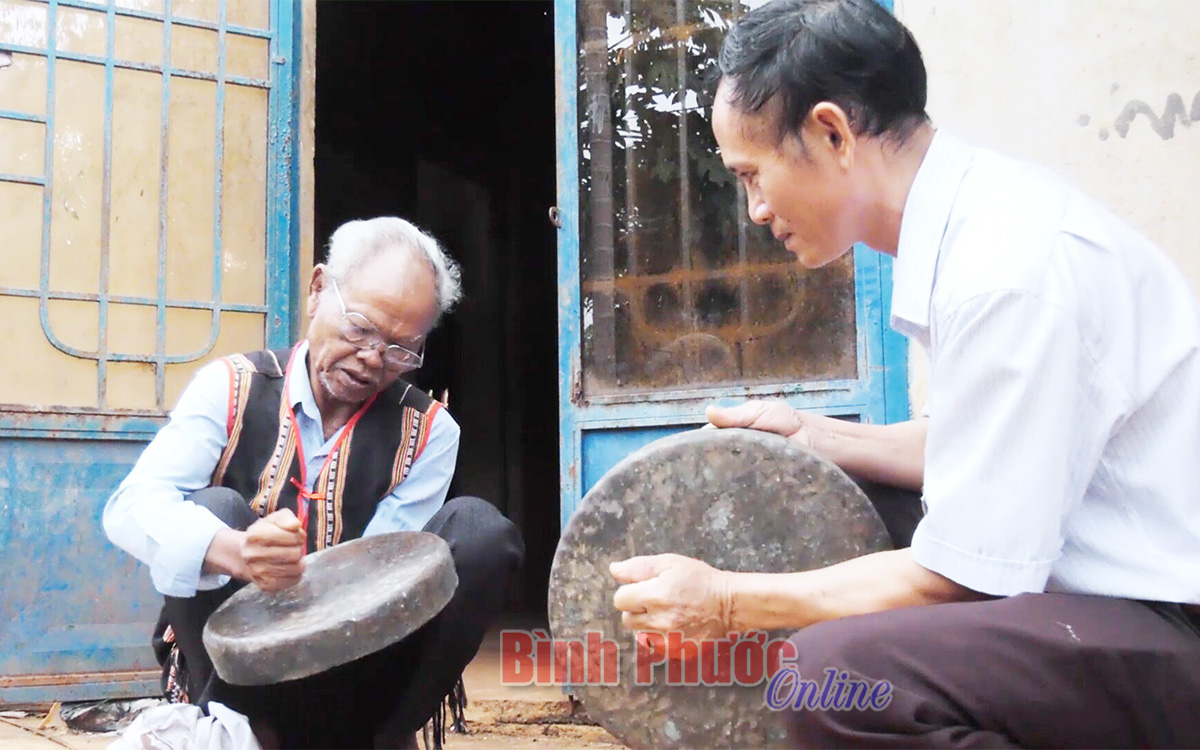 The patriarch of Dieu Set village in Thuan Loi commune introduced his nation's culture of gongs
In particular, the gong is a bridge for people to send their thoughts and aspirations to heaven and earth, to the gods, to pray for good things for family life. Therefore, not just a traditional musical instrument, gong is a spiritual dish, an indispensable "religion" throughout the life of the S'tieng people, from birth, labor, marriage. .. until we return to our ancestors. Mr. Dieu Vinh, who has long been attached to this unique heritage, said: "Gong is the unique identity of the Sieng people. It sticking like blood and flesh, making up cultural values ​​of the people. Every time we perform the gongs, we feel proud. In addition to the basic rhythms, we also create and change the sound of gongs according to revolutionary music praising the Party and Uncle Ho ".
Mr. Dieu Mi was taught by Mr. Dieu Vinh and now knows how to use and understand the unique artistic value of gongs. He feels proud of being the next generation that holds the typical cultural values ​​of his people. Mr. Dieu Mi said: "It is good time to watch the doctors and the uncle practice. At first I found it difficult to practice, but after that, I had passion and interest. The art of playing gongs is difficult, but it is even more difficult to adjust and requires knowledge. In addition, all gongs in the gong must be used. From there, to feel and absorb the correct sound. I believe that together with the gong team of Thuan Tien hamlet, Mr. Dieu Vinh's lessons will positively contribute to the restoration and promotion of the cultural value of gongs of the Sieng people.
Let the gongs sound forever
In order to promote the culture of gongs in the community life, every year, Dong Phu district organizes cultural and sport activities for ethnic minorities. Especially holidays, Tet holidays, national unity festival ... Especially every 2 years, the district organizes cultural and sports festivals of ethnic minorities to create conditions for ethnic groups to improve their lives. spirit, understanding, solidarity, mutual assistance develop together.
However, the preservation and promotion of cultural values ​​of gongs are also facing many difficulties. The elder of Dieu Set village shared: "Currently, the transmission of gongs is mainly done by word of mouth, direct instruction. Not everyone can teach and learn gongs. Old people are getting old. Young people know very little gongs. Finding people to maintain and be able to continue the cultural circuit of gongs is not easy. These are big barriers, but we will try to mobilize people who are knowledgeable to keep the movement active. From there, creating vitality for the Sieng gong ".
How to enjoy the gongs and folk songs of ethnic minorities resounding and bustling in daily life, the S'tieng people in particular, and the ethnic groups in general all want the government to continue to be concerned. mind, policy facilitation and funding support. At the same time, as well as strengthening connection activities so that people can participate in the performance, providing opportunities to exchange and learn for nearby young people.